March 8, 2023
A run / hike up the Brecherspitz
The Brecherspitz is an impressive peak near Schliersee, Bavaria. Whilst on holiday there during the winter, I decided to do a run / hike up to the peak as a long run. An amazing mountain to climb, with epic scenery and views. Despite a slight injury it was still an awesome run.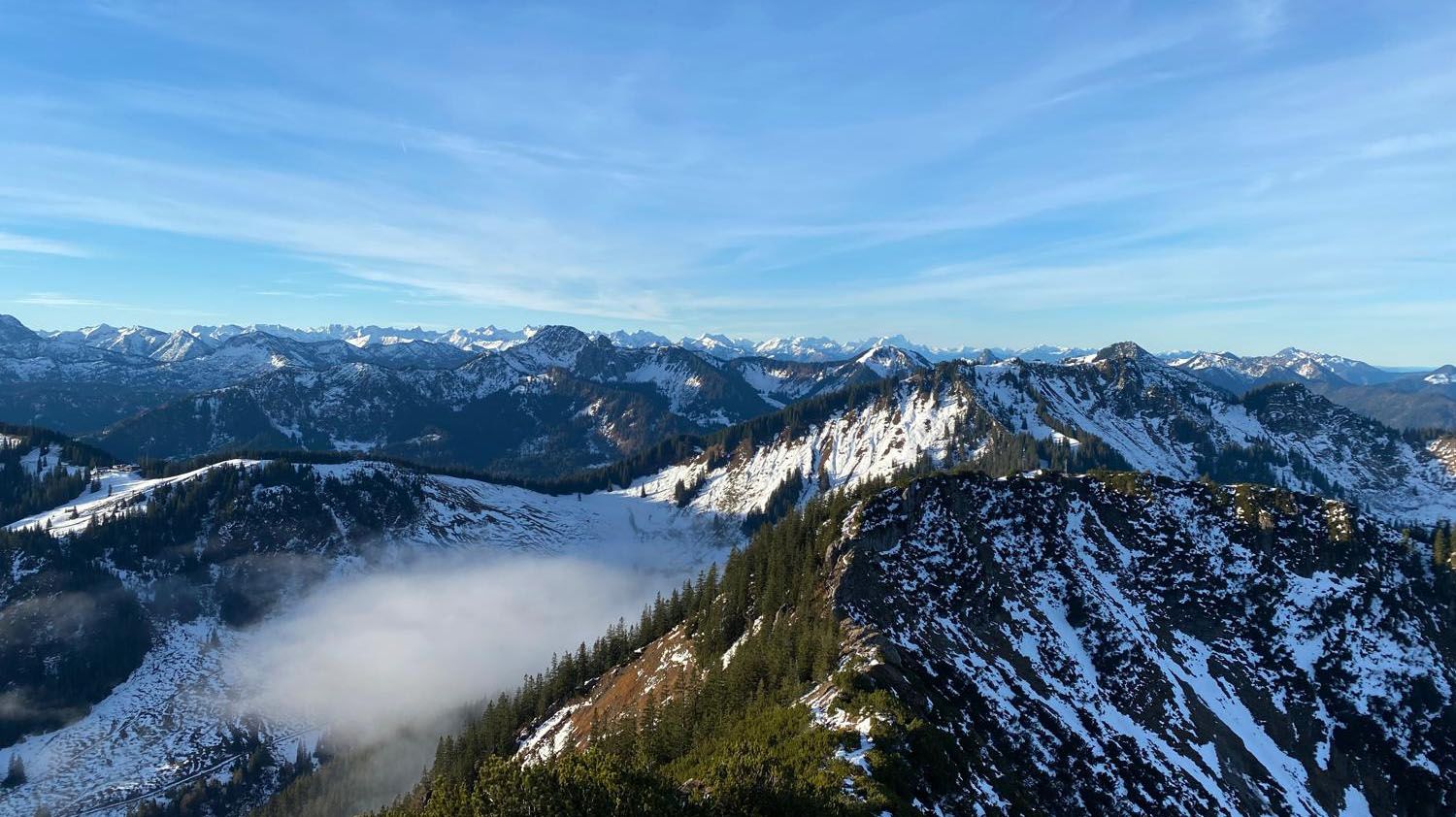 Whilst staying in Schliersee, Bavaria, we were driving back from checking out a nearby waterfall and I had thoughts of a Christmas Day long run in my mind. Looking out the window at a peak dominating the skyline of the valley, I wondered to myself (or, quite possibly wondered out loud) - Can I run up that?
A bit of searching on the internet and consulting maps revealed that this peak is the Brecherspitz - and there is a well-established hiking trail up to the top of it. It looked somewhat gnarly, with talk of a very narrow ridgeline section that you need to traverse. It sounded awesome.
I quickly planned out a bit of a loop from the village we were staying in that would take me up to the peak, down the other side and loop back around over a pass that I was interested in checking out. It would be about 22km, and though the distance isn't huge I was allowing myself plenty of time as the climb over the peak itself could be very slow.
The next morning before sunrise, I set off. Starting from the village of Schliersee itself, I headed out along the lake towards Neuhaus, the next part of the village. There was some slight cloud in the early morning but it cleared up quickly as the morning started to lighten up.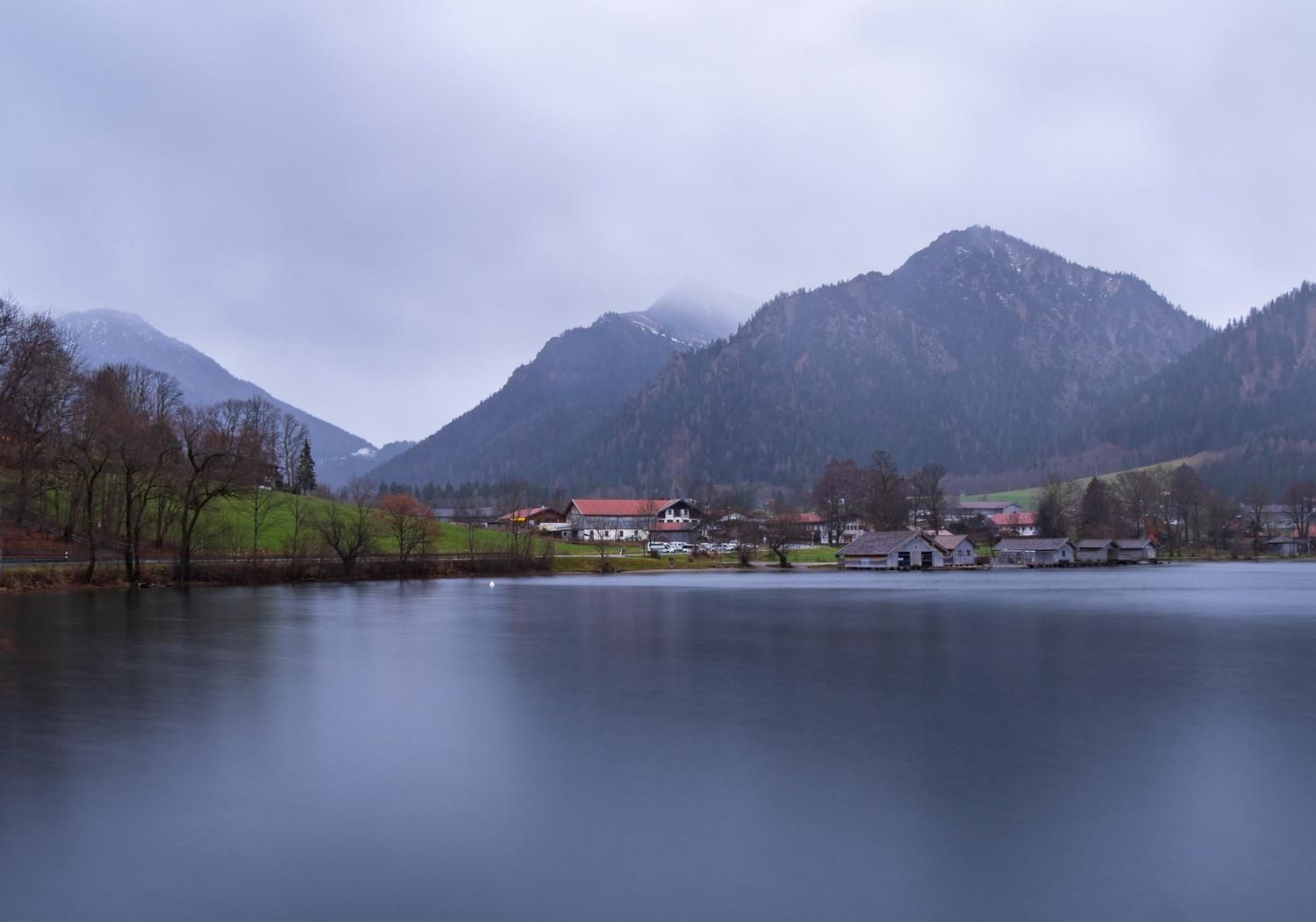 Working my way through some back streets and walking paths in Neuhaus on a slight uphill trend, I linked up with the wide forest trail that starts to ascend the mountain.
As someone who usually spends vast swathes of time in the Australian bush, this wintry Bavarian forest is quite the contrast to what I'm used to and I was very much enjoying the beauty of it.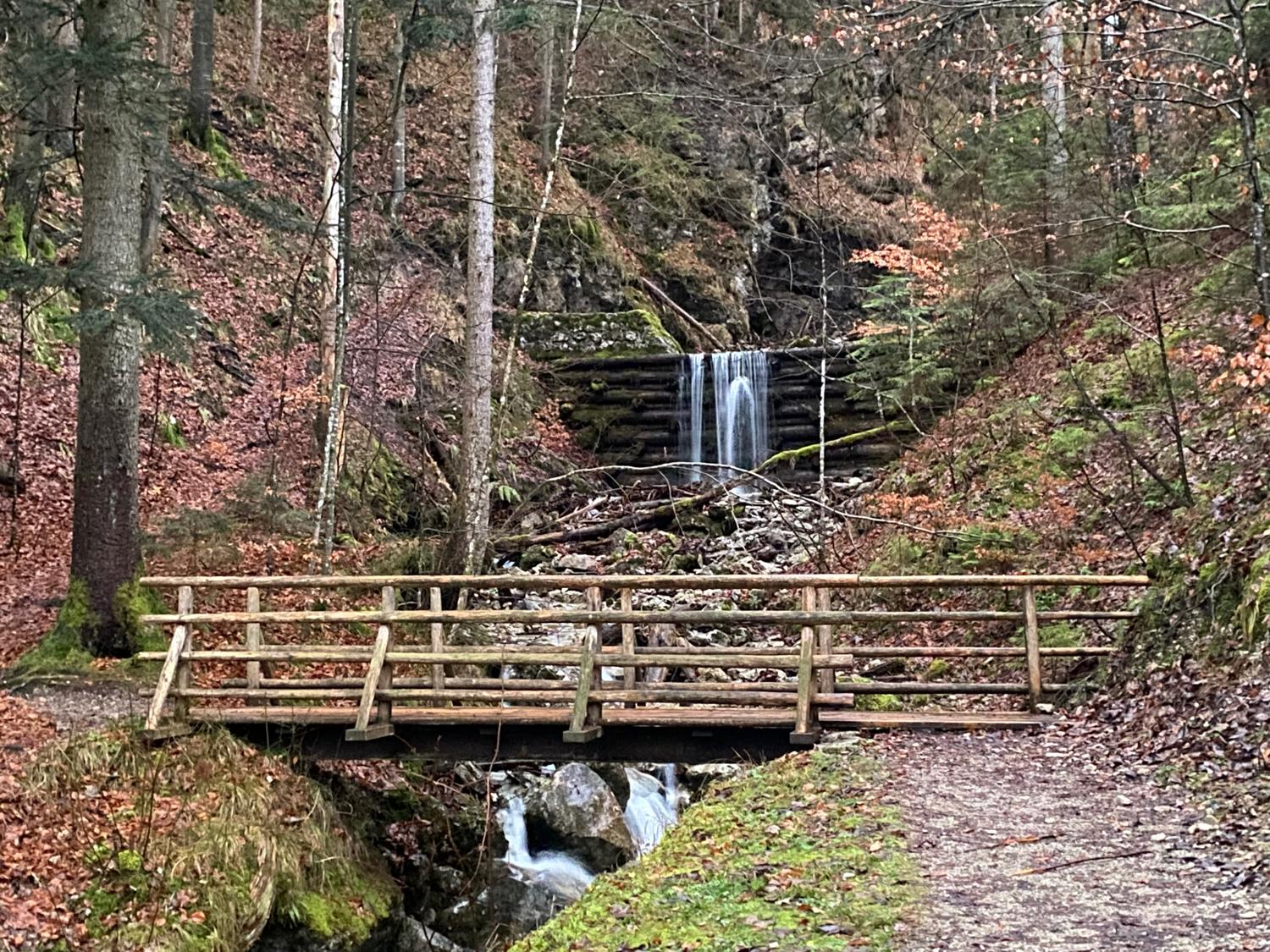 Whilst hiking up the path I spotted a nice little spot to look up the river. The ground was covered in a wet layer of leaves, so I was being very conscious about how slippery it was underfoot. It was not the leaves I needed to be careful of, as I stood on a loose rock (hidden by the leaves) which slipped out from under my foot.  I fell over sideways and landed on another rock, corking my left quad quite badly.
Quite a bit of pain ensued, followed by exasperation at myself.
I was annoyed with myself because I really wanted to climb this mountain. Considering my options, I decided to try to walk it off and keep moving up the mountain, because I knew that I had a little bit more uphill to go so there wouldn't be any need to run for some time.
So I continued on, though it was obvious that I'd done some damage and it was going to be rather uncomfortable for the rest of the run.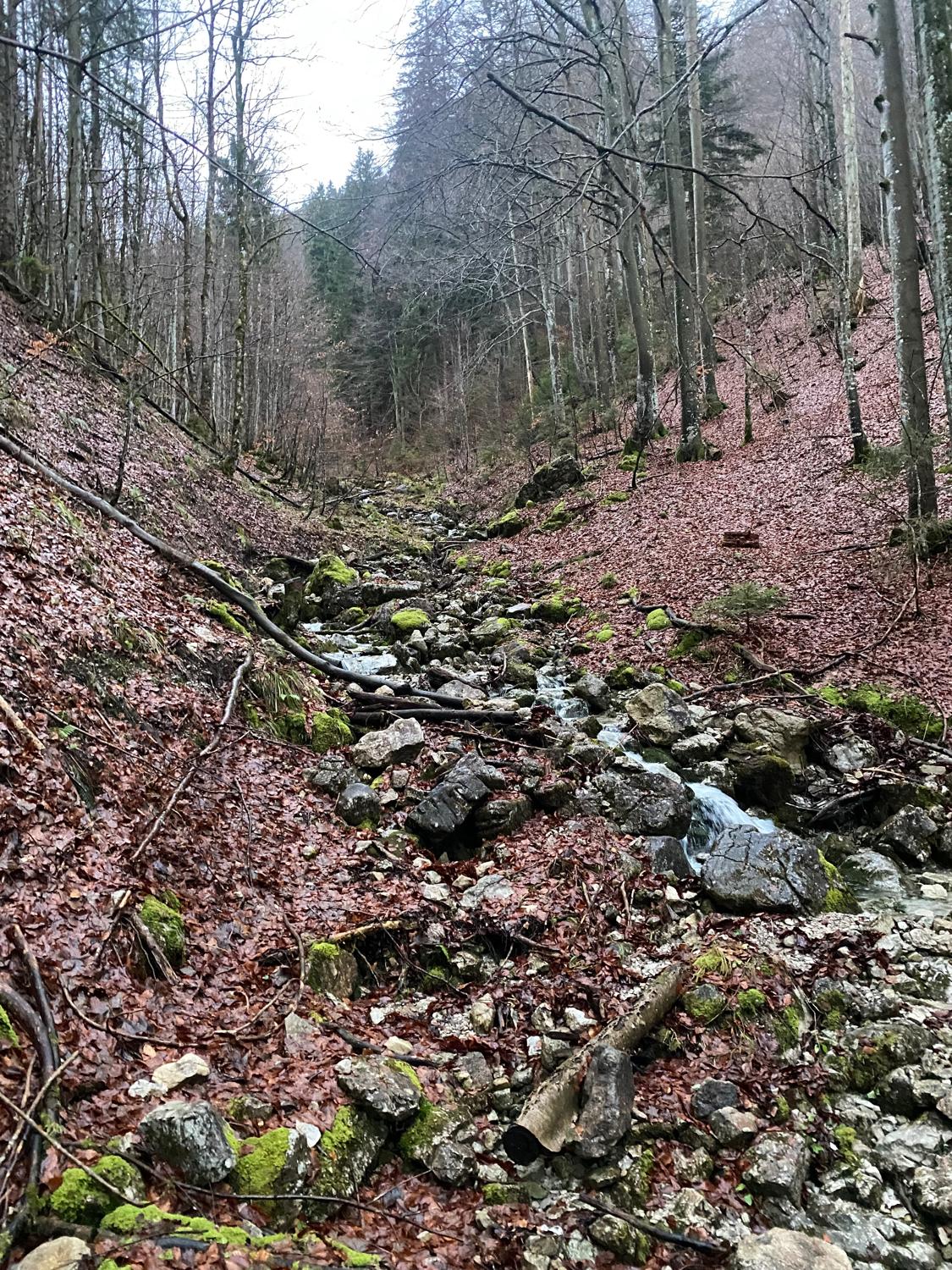 With a slight limp I continued hiking up the path, passing a mildly creepy hut and a sign that seemed to be warning me about an electric cattle grid (thanks, translate app). Eventually the trail opens up into a valley that looks almost like a half-crater, with the steep ridge of the Brecherspitz looming over the landscape to the left of me.
There are a few buildings in this area, which from what I can gather at least one of them offers a rest for hikers and adventurers during the summer months.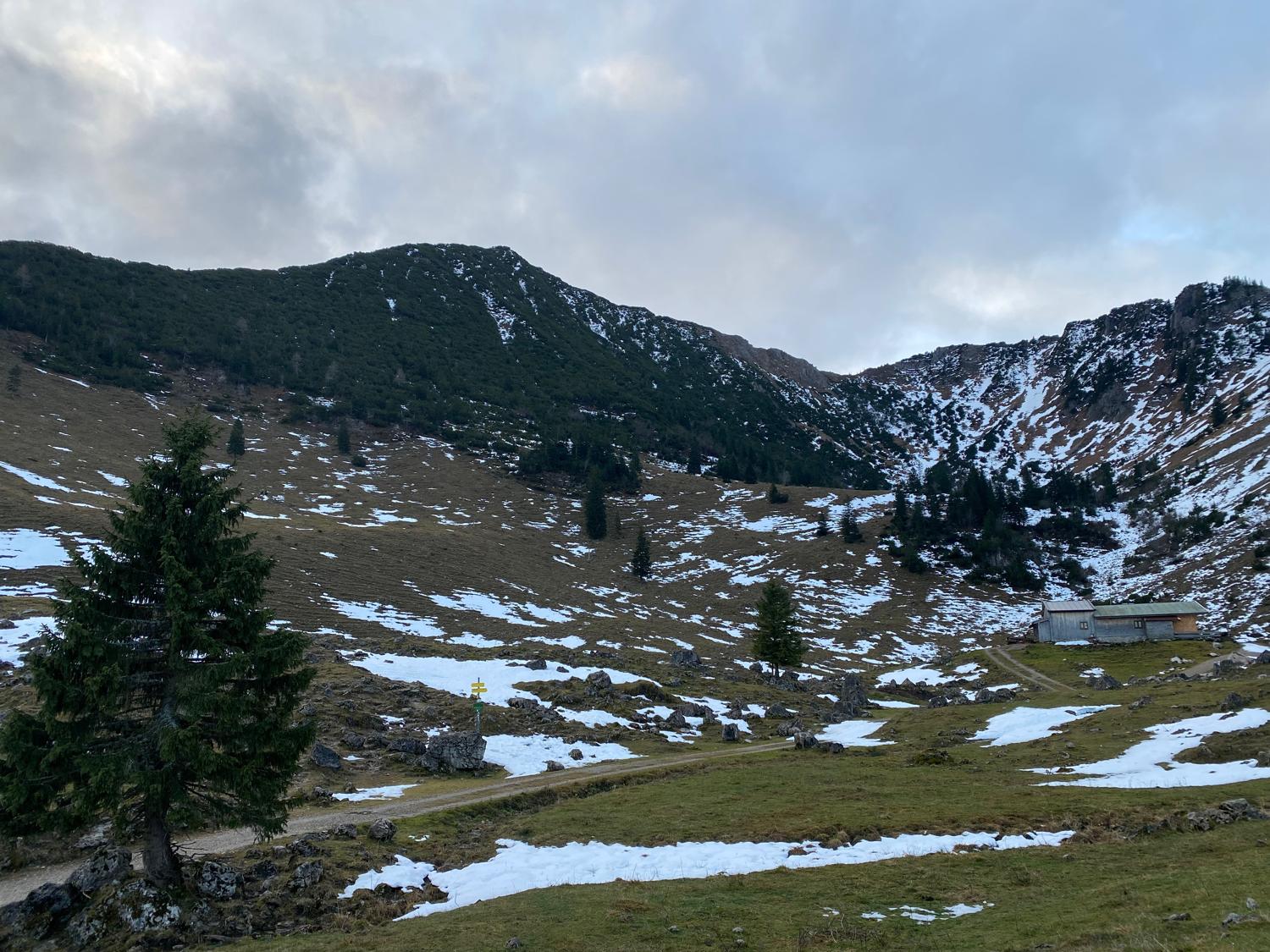 Still in quite a bit of pain, I can see someone ahead of me hiking up the steep ridge toward the summit of the mountain. I decide to continue on and at least climb to the top of the ridge, which should reward me with some good views even if I don't decide to continue on.
Gingerly ascending the rough track, I realise that from the ridge I'm aiming for it's really not that much farther to the summit - in fact I can see it already. Moving up onto the ridge, into something like a bit of a saddle there are already some excellent views.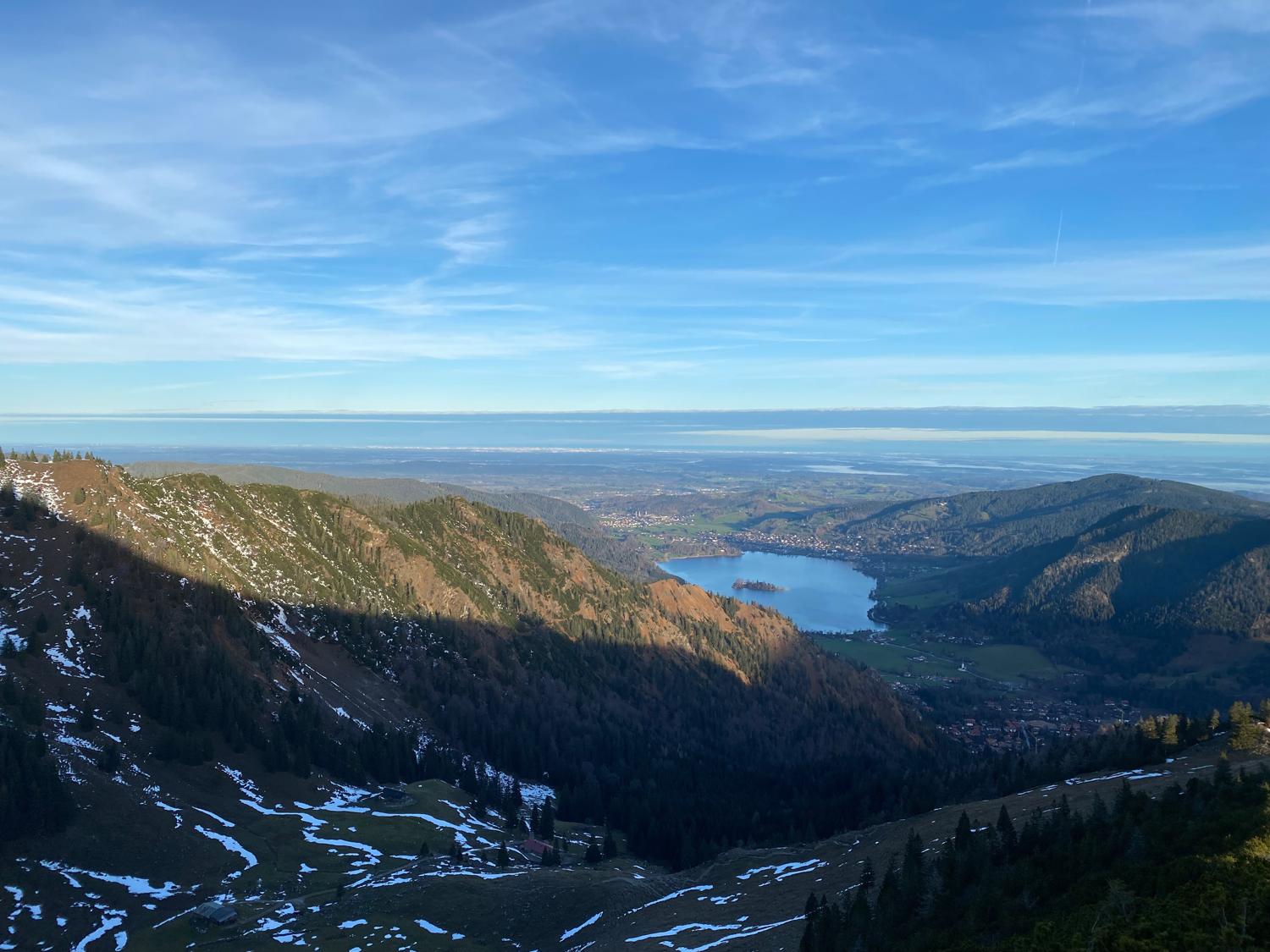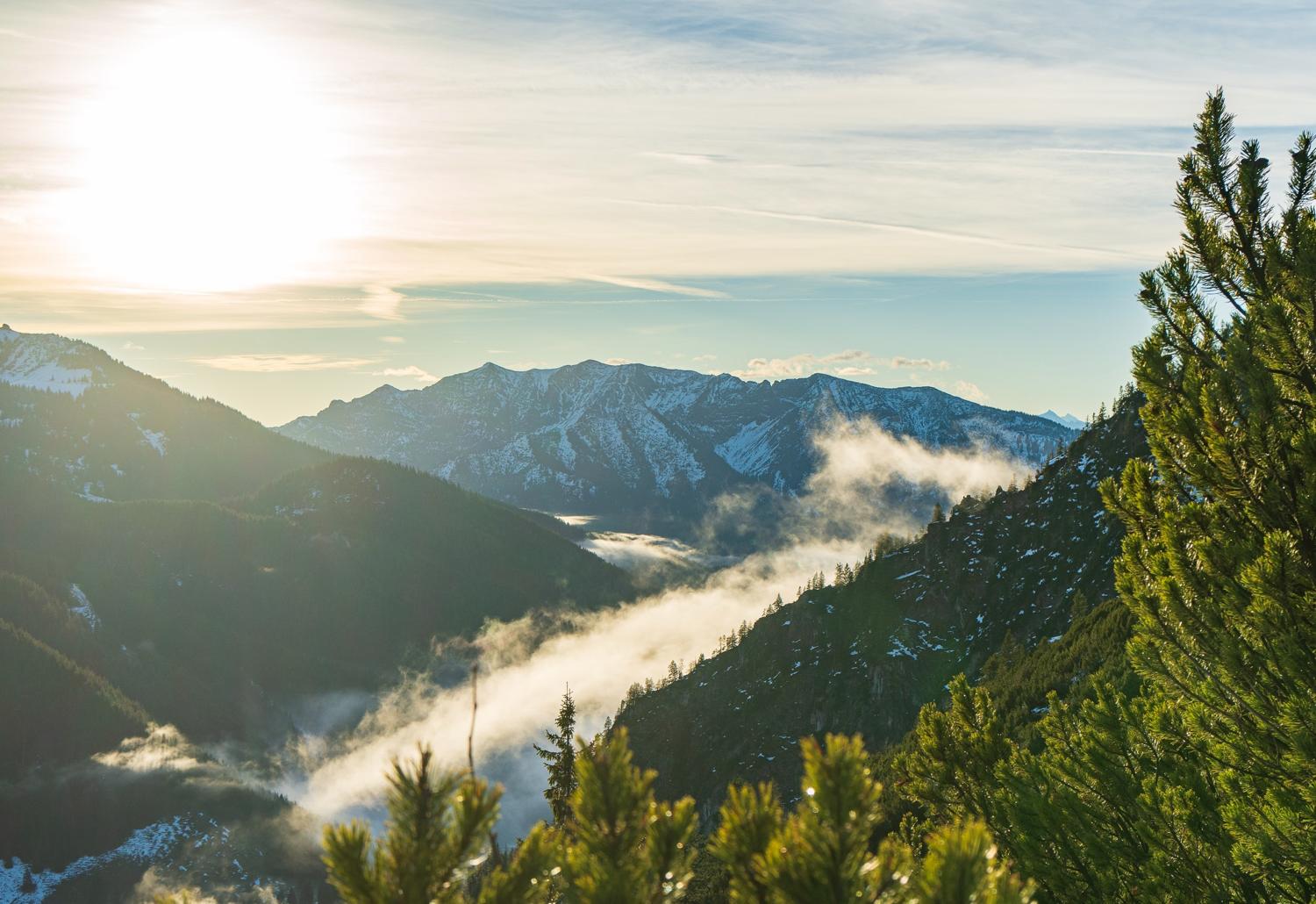 Climbing the final ridge up to the summit of the Brecherspitz is slow going. It's steep, technical, covered in snow and ice so quite perilous and slippery. With the track dropping away steeply on either side, it was certainly a nerve-racking ascent in some places, and required a slow, deliberate pace to work my way up the icy path to the summit.
After a little bit more climbing, I rounded the corner onto the summit itself! The views from up here were truly something else, and I sat for some time taking it all in.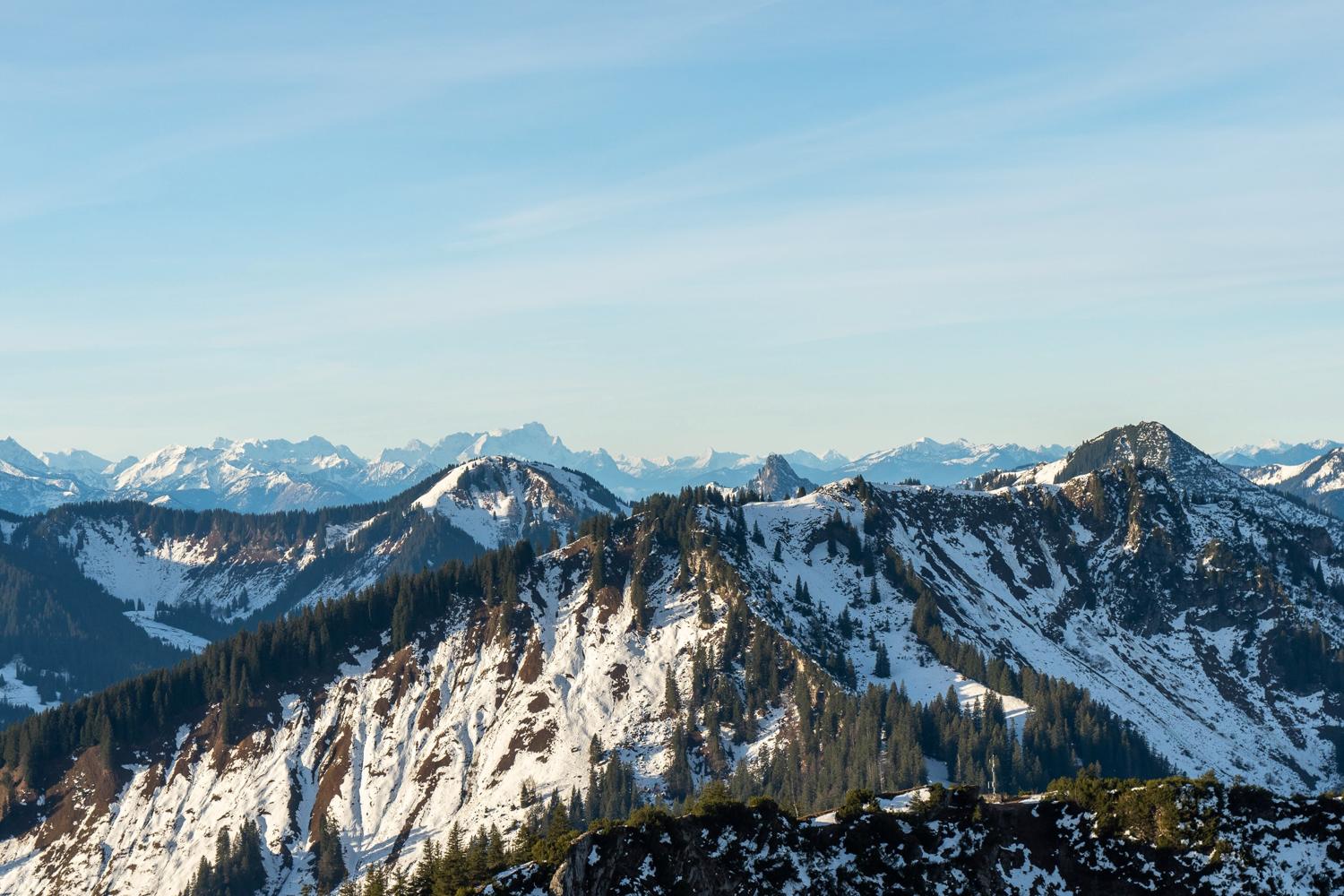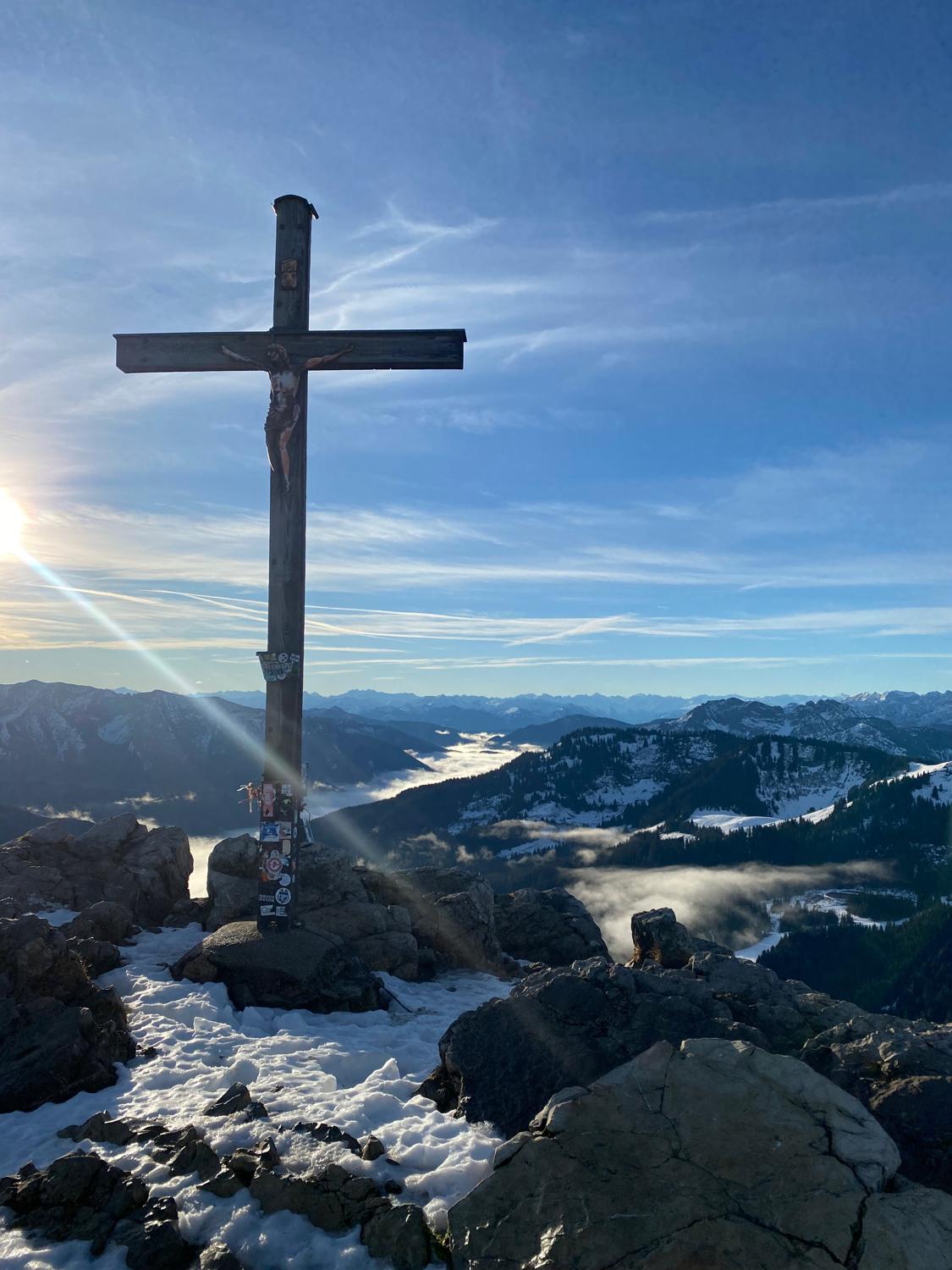 I also had another decision to make - given the leg situation. Do I double back and go back down the way I came? Or do I carry on and try to continue the loop?
Given the effort I'd been through to get here, I decided to carry on...
I began to ease my way down the ridge, as there was no running to be done here on this snowy, treacherous ridge. With steep drops on either side, the ridge become even narrower, reaching a section where a steel cable had been installed to provide something to hang onto and make one feel a little bit better about life.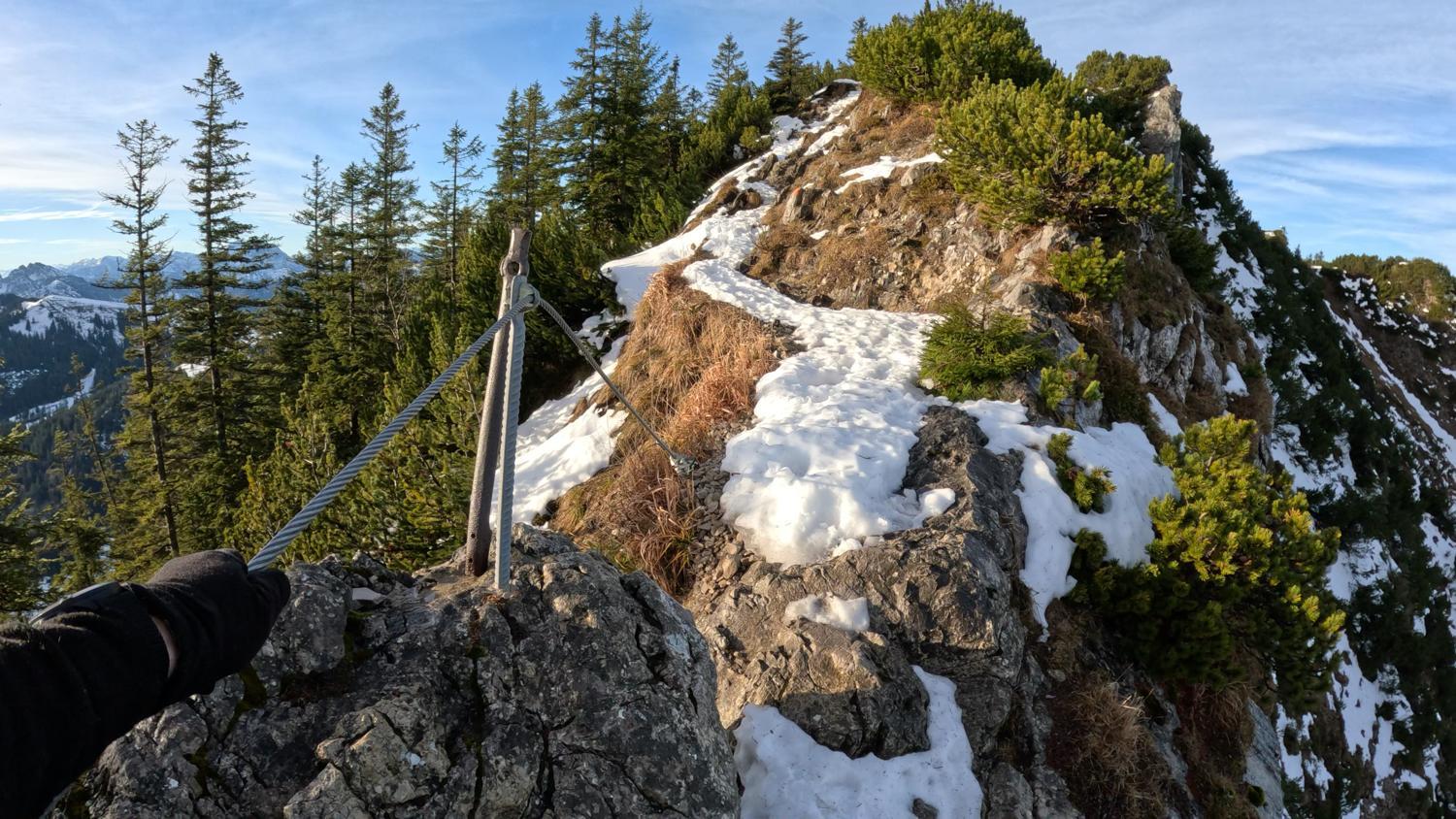 Climbing my way back up on the much wider next ridge, I came across another hiker enjoying the view. Unfortunately, I can't speak German, but we were able to communicate in small parts of English.
Moving my way up the ridge, I took a right turn which would actually turn out to be the wrong way. But consulting one of the signpost maps it turned out that this would loop me back around to the bottom of the valley that I started from. From there I could retrace my steps down the forest trail and back to the village.
I came across another two hikers at a small chapel, who offered to take my photo at the chapel, though I politely declined and kept on moving, working my way down the incredibly technical, steep and snowy descent. Descending put quite a bit of pressure on my injured leg, but there was only one way down now.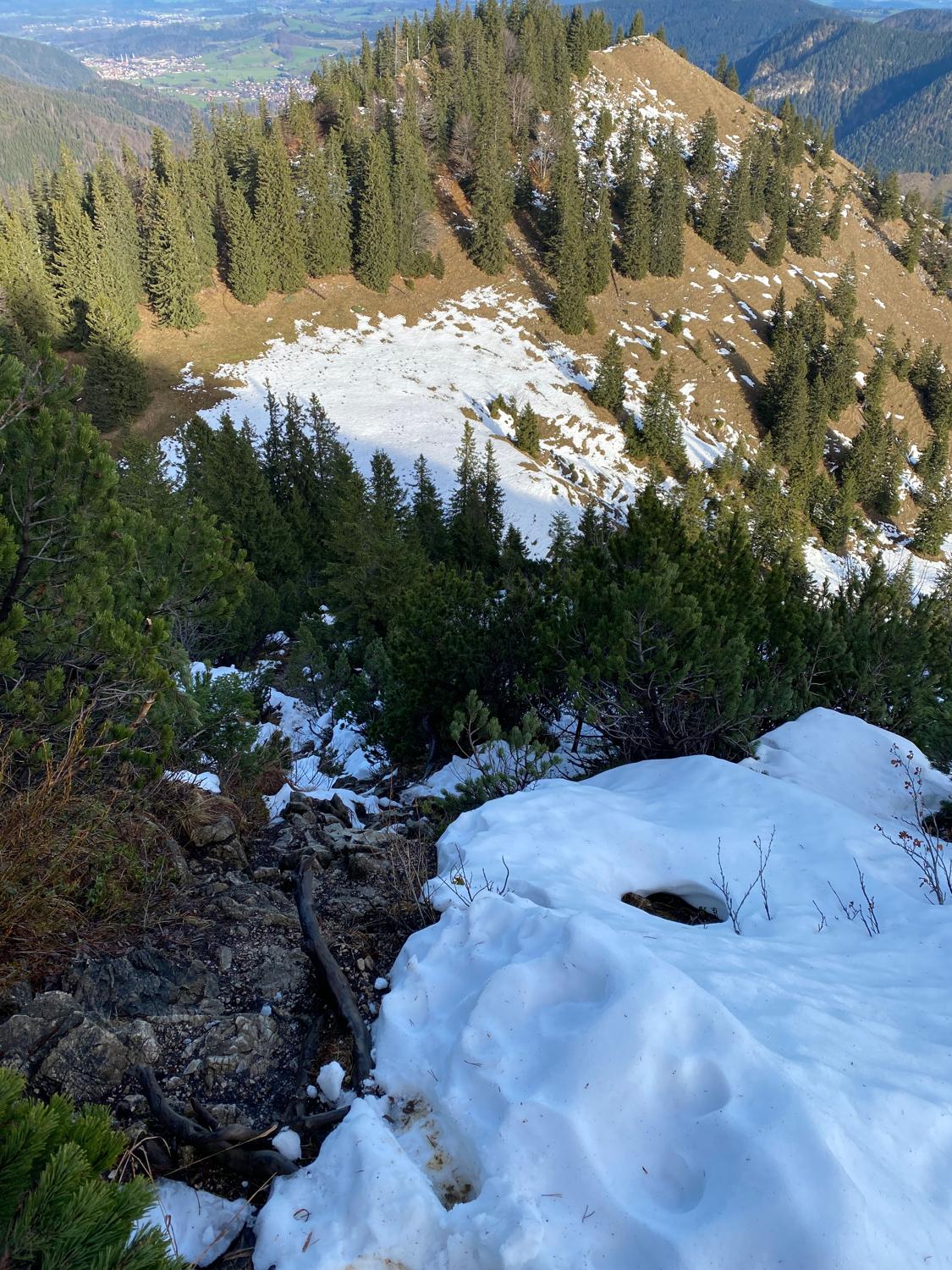 After the steepest part of the descent the track moved down a much wider hill back down to the valley.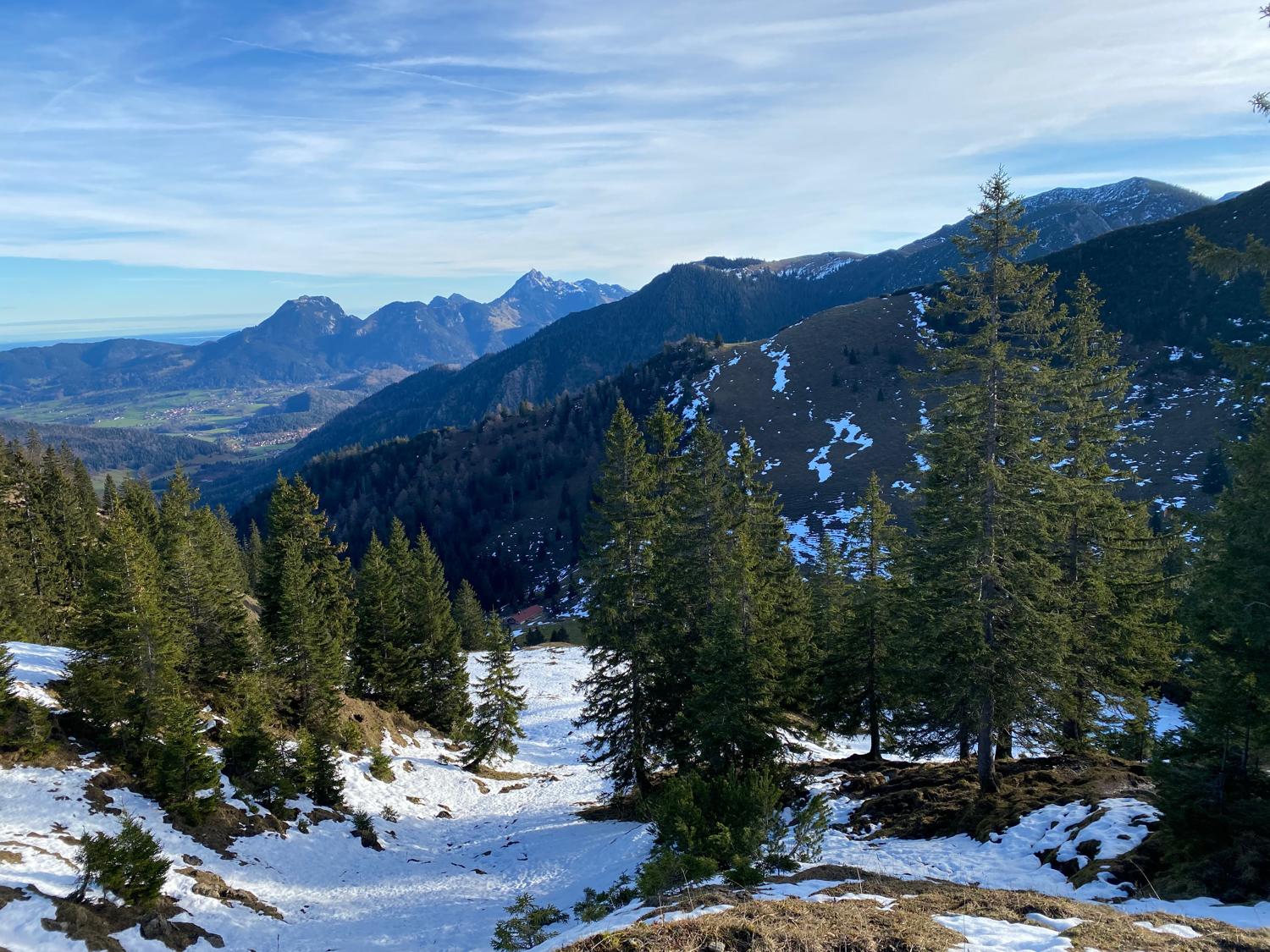 Back in the valley and the return back to the village should be reasonably straightforward and mostly downhill. Something that would ordinarily be a bunch of fun. Unfortunately, taking a "walk it off" attitude to my injured leg really didn't do anything to improve it, which meant I remained slower than usual on the descent.
Because I'd taken a wrong turn and didn't end up looping around the way I had planned, it meant I was descending down the same forest path I had climbed. This wasn't so bad, as it was a pretty gentle descent back down into the village.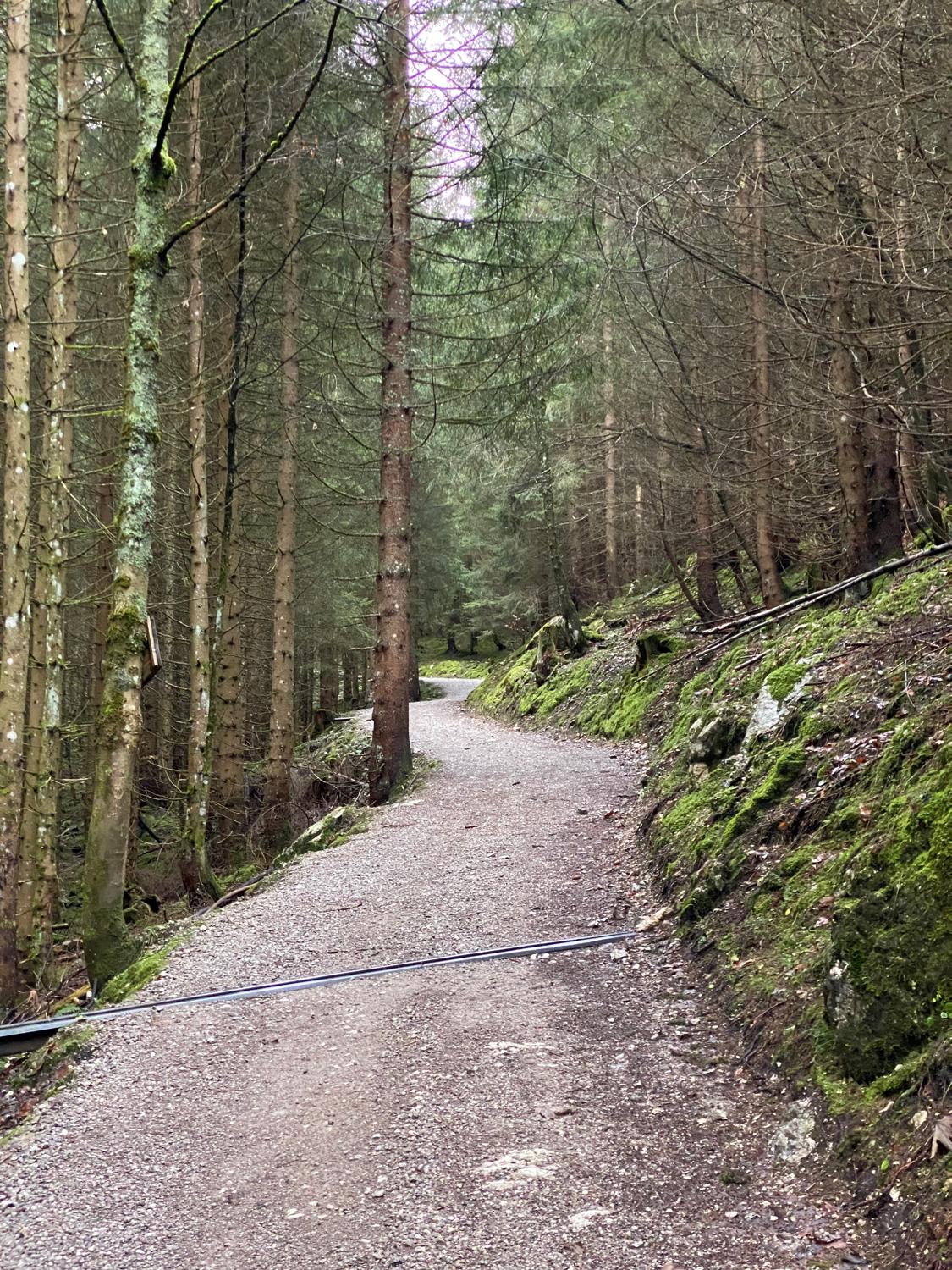 Once it flattened out I switched to a run-walk with a couple of walking breaks just to ease the pressure on the leg. I made my way back along the lake, through the village and back to the hotel.
Upon return to the hotel it was only about 22km for 5 hours work - but it was 5 hours of adventure that I'll remember for a long time to come! This is a beautiful area and the network of hiking trails is really amazing. Everyone I came across was super friendly, despite there sometimes being a language barrier. Plenty more to see and do in this area and I'm sure I'll be back!