February 25, 2021
Race Report - Australian Alpine Ascent 50km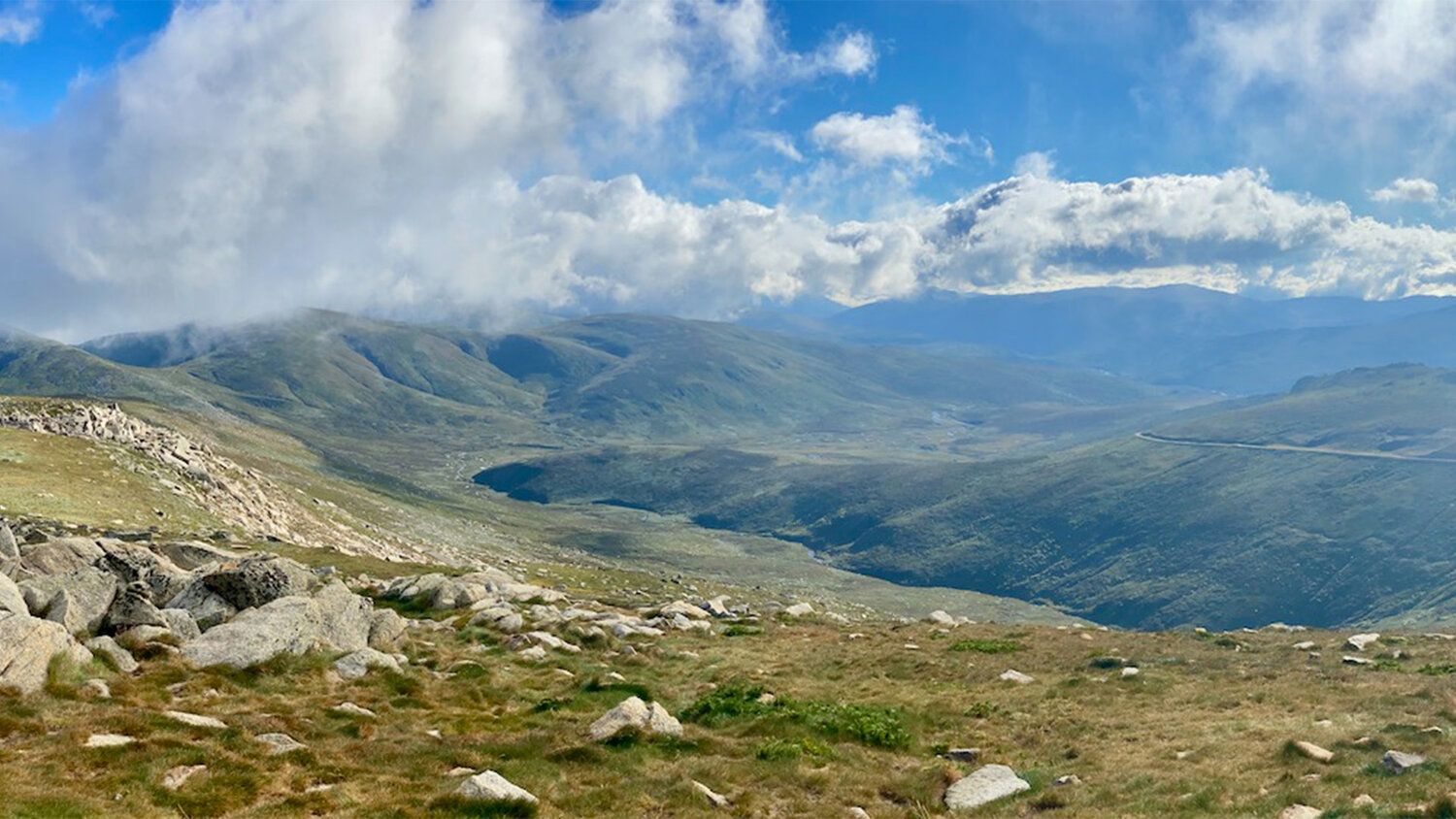 Sun, mountains and... blisters? A race report of the Elite Energy Australian Alpine Ascent 50km in Kosciuszko National Park - A trail race that runs two laps of the Mt Kosciuszko Summit loop.
---
I had been itching to do this race since 2020, a year when I wasn't able to run it due to an injury. This is a fun event that starts and finishes at Charlotte Pass ski resort, and runs two 25km laps of the Mt Kosciuszko Trail, taking you to the top of Kosciuszko (Australia's highest peak). There is also a 25km event, which is a single lap.
It generally runs counter-clockwise, which means you start off by running the walking track sections up past Blue Lake, across the ridgelines to the top of Kosciuszko, before a gradual 10km descent down the management road back to Charlotte Pass (then do that all again on the second lap). The course experiences some incredible Australian alpine scenery.
We made a trip up a few weeks prior to the event to run the track and get a feel for it. Any excuse to get into the mountains though really. Most of the photos in this post are from that trip, as I didn't stop much to take photos on the day.
My goal for this race was to try to come in under 6 hours, which would be the first time cracking the 6 hour mark for a 50km (my previous two races have been 6:15 and a 55km in 6:45). This race was also a bit of a test to give me an indication of how prepared I am for the April 2021 Alpine Challenge 100km - primarily in terms of recovery and how I'm feeling at the end, as well as how I go with nutrition and hydration.
The race starts reasonably late at 0900 (at least for me - I'm usually an early runner) after being bussed from the Perisher carpark to Charlotte Pass. It starts off with a bit of a climb out of the village and up onto the road, before hitting the Summit Trail and descending down to the Snowy River. Depending on the river level this can mean wet feet within the first 2km, but as luck would have it the river level was low enough to allow for crossing on the stones.
From the river crossing it's a 5km climb - nothing overly steep or technical, but just a solid climb up past the turnoff to Blue Lake. I probably went a bit too hard here - I was hiking quite quickly and running some sections, which would come back to bite me a little on the second lap.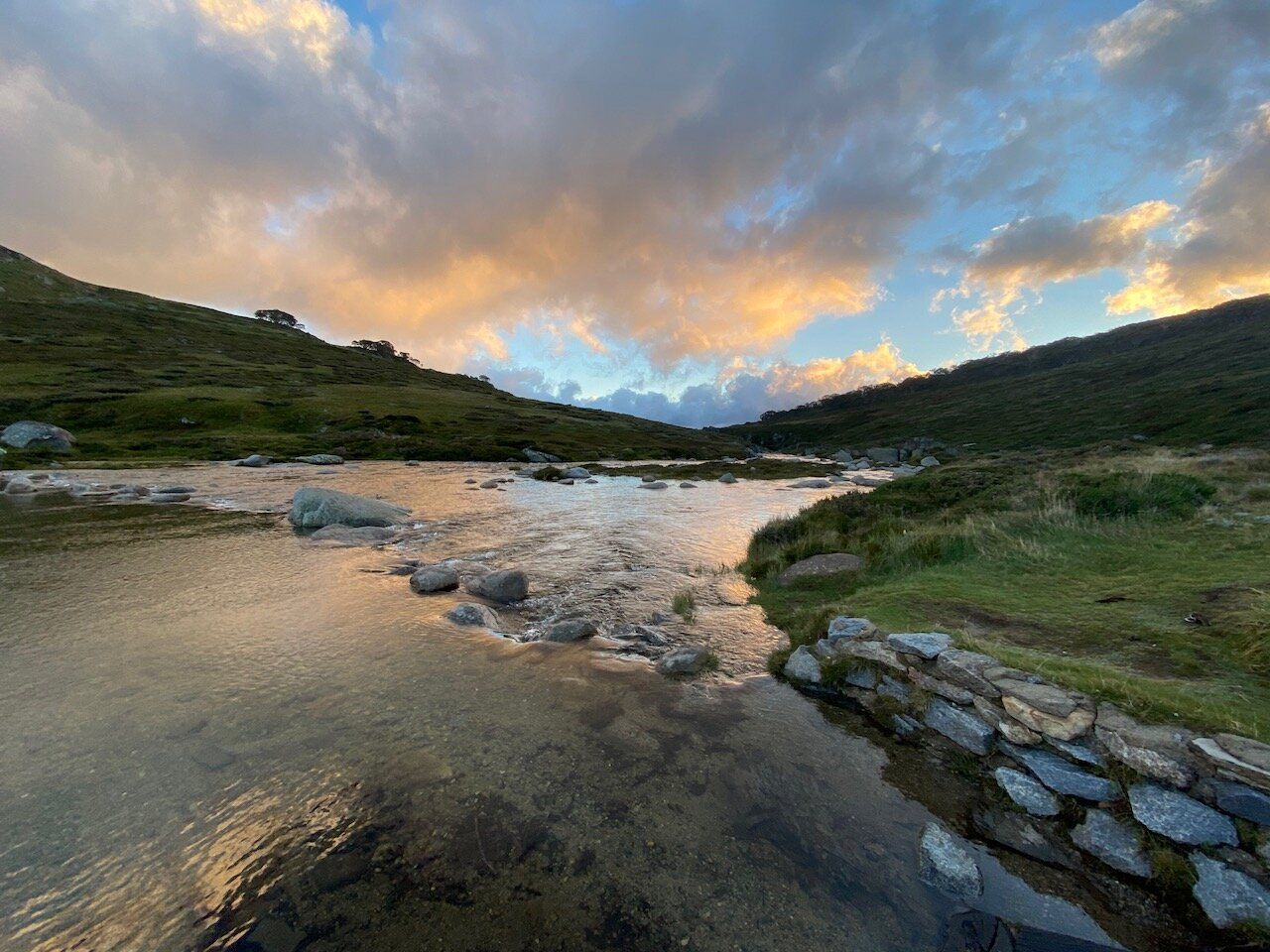 From the top of the climb you get a bit of reprieve from the ascending and get to drop down onto a device colloquially known to AAA runners as the "cheese grater". This is a raised metal walkway which is incredibly painful and damaging if you happen to fall on it, and can do a lot of damage to hands and knees.
The section that runs along the cheese grater, then onto some mildly technical single track past Lake Albina is relatively flat as you're running along ridgelines, and also has some amazing views. Eventually the course rejoins the summit trail. There are some stairs involved, and then a cheeky little climb up to rejoin the main track. It's a gentle climb of about 1km from here up to the summit, where you touch the cairn at the top of Australia, and then start the descent!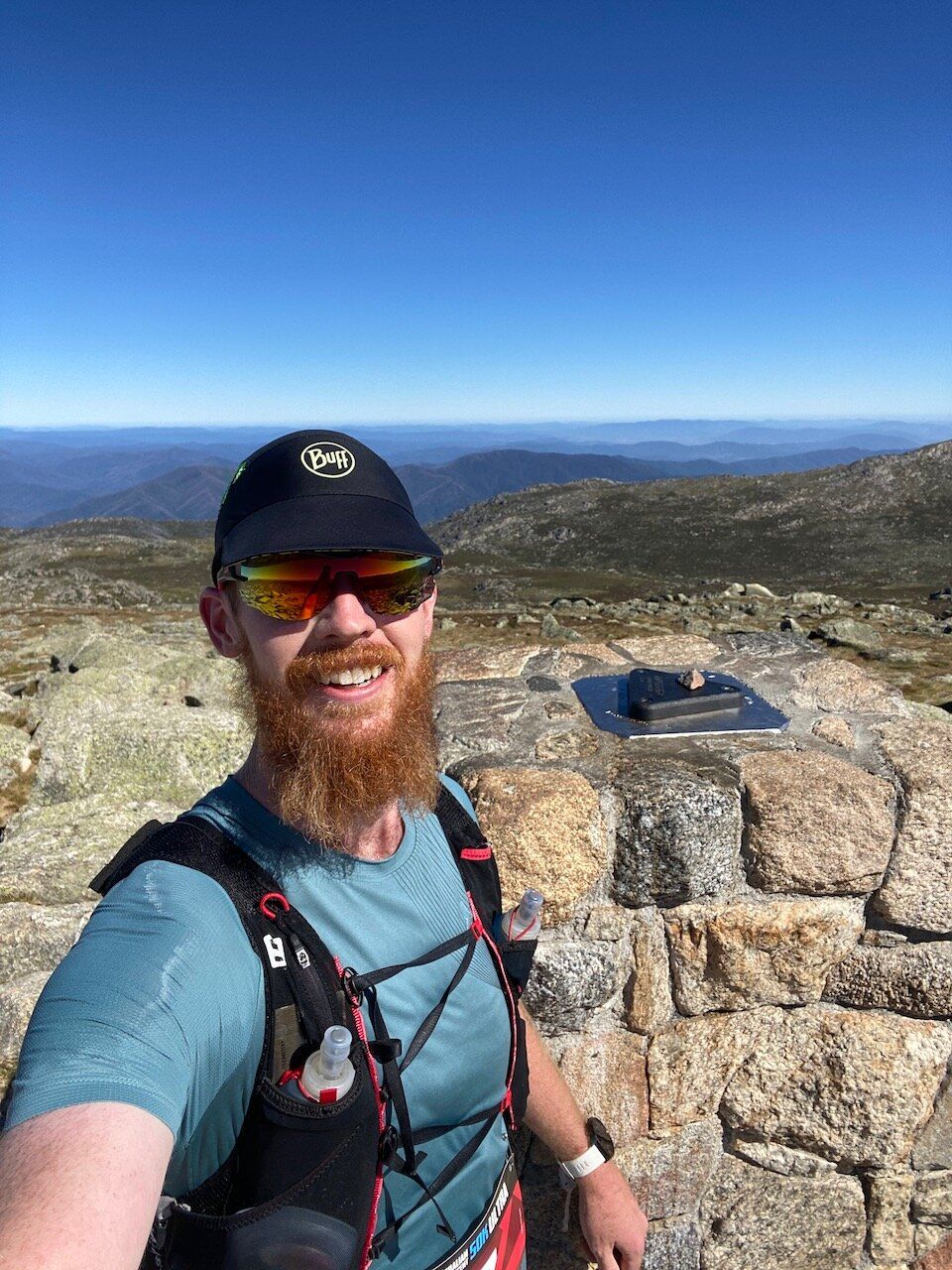 I was feeling real good at this point and bombed down the track probably a little too quickly. There is an aid station at Rawsons Pass, so time to fill up some water. I ducked into the bathroom there, and unfortunately in my haste jammed the door into my toe - quite painful, but no lasting damage for the rest of the day. It's about a 9km gentle downhill from Rawsons Pass, so I settled into a comfortably fast pace with the understanding that I could be going a little too quick at this point in the race, but it's also an experiment to see how everything holds up.
The sun was well and truly up by the time I got back into Charlottes Pass at the halfway point. Being the turnaround point (and the 25km finish line!) there's an aid station and access to drop bags.  I took the time to refill my flasks, have a drink myself, apply sunscreen (more on that point later...) before carrying off for round two. It was a hike back up to the main road, but from that point I started running again up the road, then back down to the river crossing.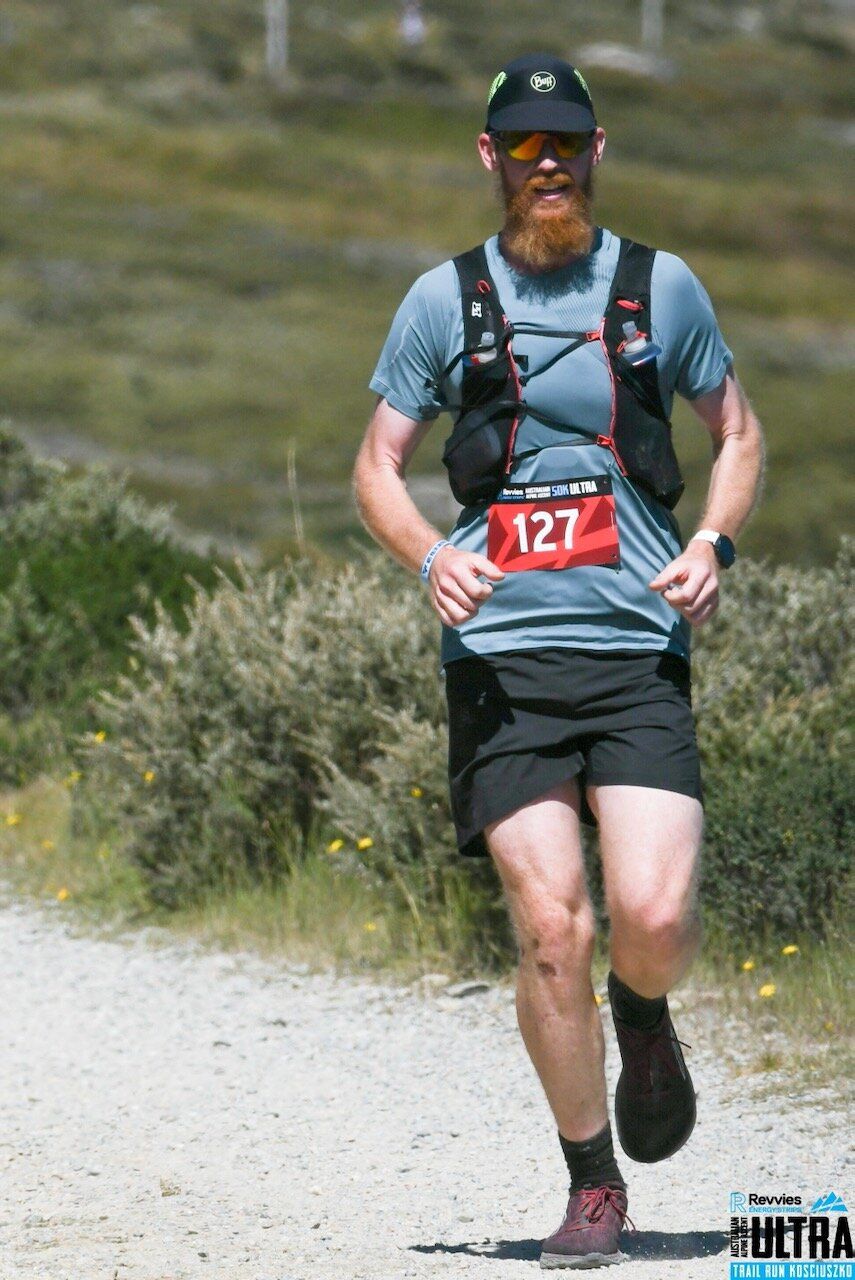 I was significantly more tired on the 5km climb back up from the river the second time around - acknowledging that I might have gone too hard on the first lap - so there was a lot of hiking. At this point the sun was also quite high, making things a bit warmer - I passed a friendly hiker who was keeping track of people going past, and yelled out that I was currently in 12th place. Admittedly this was further ahead than I thought and was a nice surprise, given that I was only focussed on beating my own personal goal time, and not position.
Amusingly (in hindsight), I stacked it and fell over on a short bit of downhill running just short of the Blue Lake intersection - but luckily escaped without so much as a scrape. A quick dust off and a thumbs up to the runner ahead of me who yelled out to ask if I was okay (this is why trail running is such a great sport!) and I was back on the climb.
The track was a bit busier with regular hikers at this time, but not congested, and I like to use uphill sections to get some calories in. My plan had been too try to pick up the pace on the downhill sections and the 'cheese grater', but after tripping over earlier and realising I was more tired than anticipated, I decided to take it easier and even walked a couple of sections as I didn't want to risk tripping up - walking in particular when I needed to pass hikers (which I also figured was just a courteous thing to do).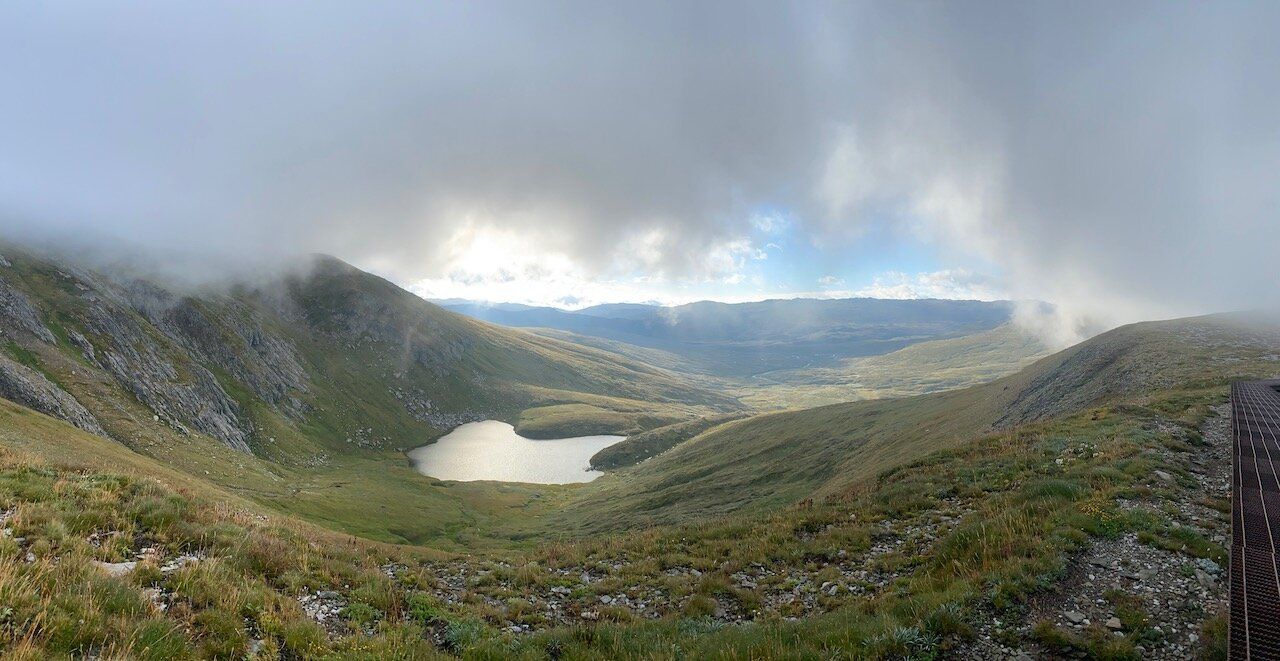 I was also following a trail of blood, which suggested that someone else had run afoul of the ol' cheese grater.
At this stage I realised I had messed up my hydration - I didn't drink enough earlier in the day because it was cooler and I didn't feel thirsty. Unfortunately now with the sun up, I had run out of water and was starting to get the odd cramp. This wasn't good, but I knew that I just had to get up the climb to the main walking track and then climb to the top of Kosciuszko - from there it was a 2km cruise to the aid station. I felt that I could manage things until then.
It's about here as well that I received a message from my partner (sent earlier, but I mustn't have had reception), who was running the 25km, that she had taken quite a fall on the cheese grater which made me wonder whose blood trail I was following (it later turned out to be someone else who had fallen and was bleeding a bit more severely). Incredibly, despite some seriously injured knees she still finished the 25km race!
I passed another runner on the climb back up to the main track who looked to be in a fairly bad way, and asked if he needed anything, so I knew that it wasn't just me who may have misjudged things (this runner would then go on to pass me again in the last few kilometers).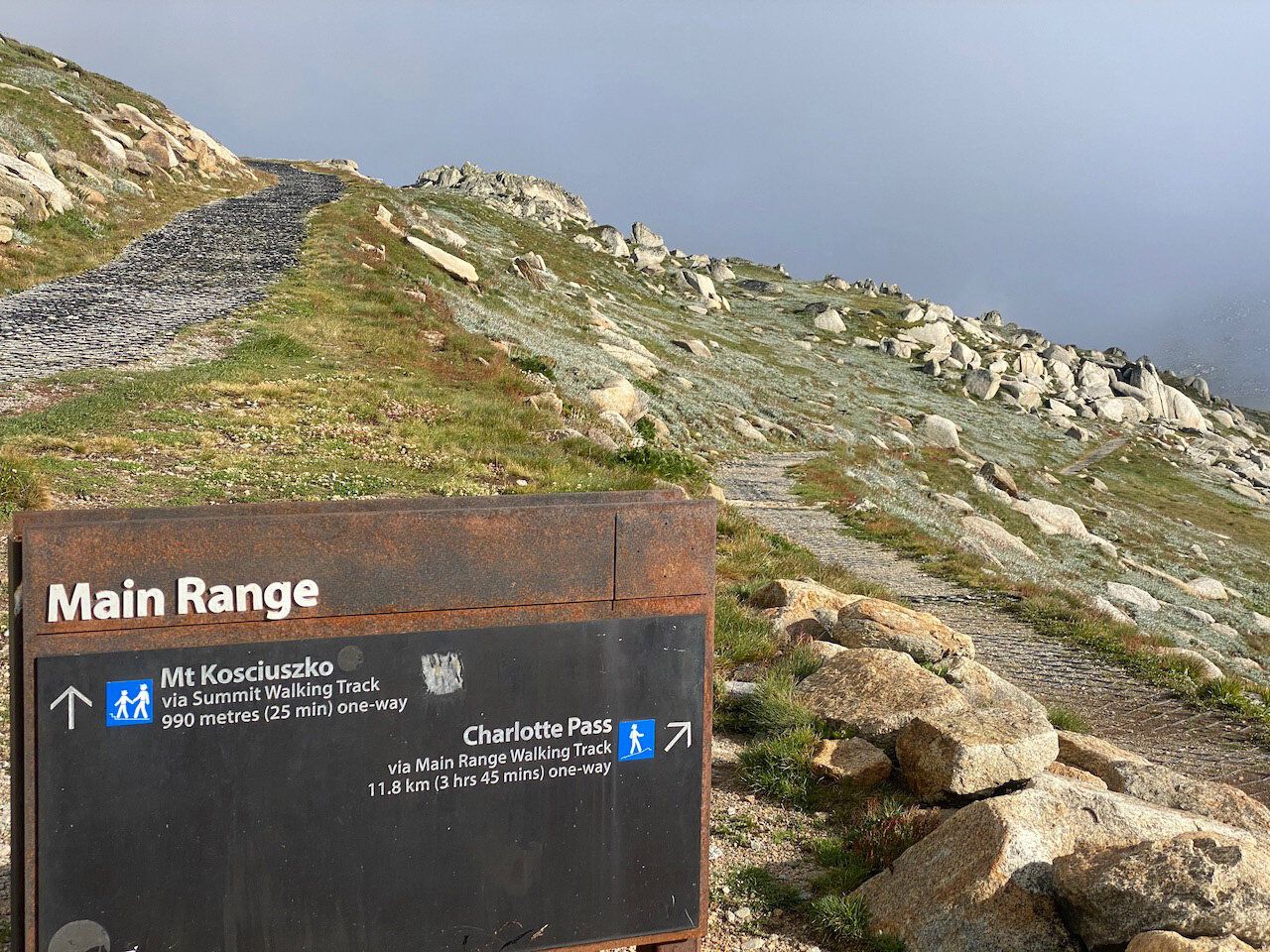 I reached the summit of Kosciuszko again, and started the cruise down to the aid station - I wasn't feeling great, and the trail was really busy at this point but I focused on getting the job done and getting some more water. Once I got there and got some water into me (and pinched a Nuun tablet from the friendly volunteer) I immediately started to feel better, and now that I had resolved the hydration issues I could start to get more calories in again.
This definitely helped, as I was able to cruise down the hill at closer to 5min/km pace, walking at two points to shove more food (mainly jelly beans) into my face. As I got closer though, I realised that despite the earlier errors in hydration and pacing I was going to beat my goal time of 6 hours - So I picked up the pace again and cruised the last 2km down the road into, into the village, and across the line!
I finished in 12th place overall (11th male and 3rd in my age category) and in a time of 5:45:03, which I was very, very happy with!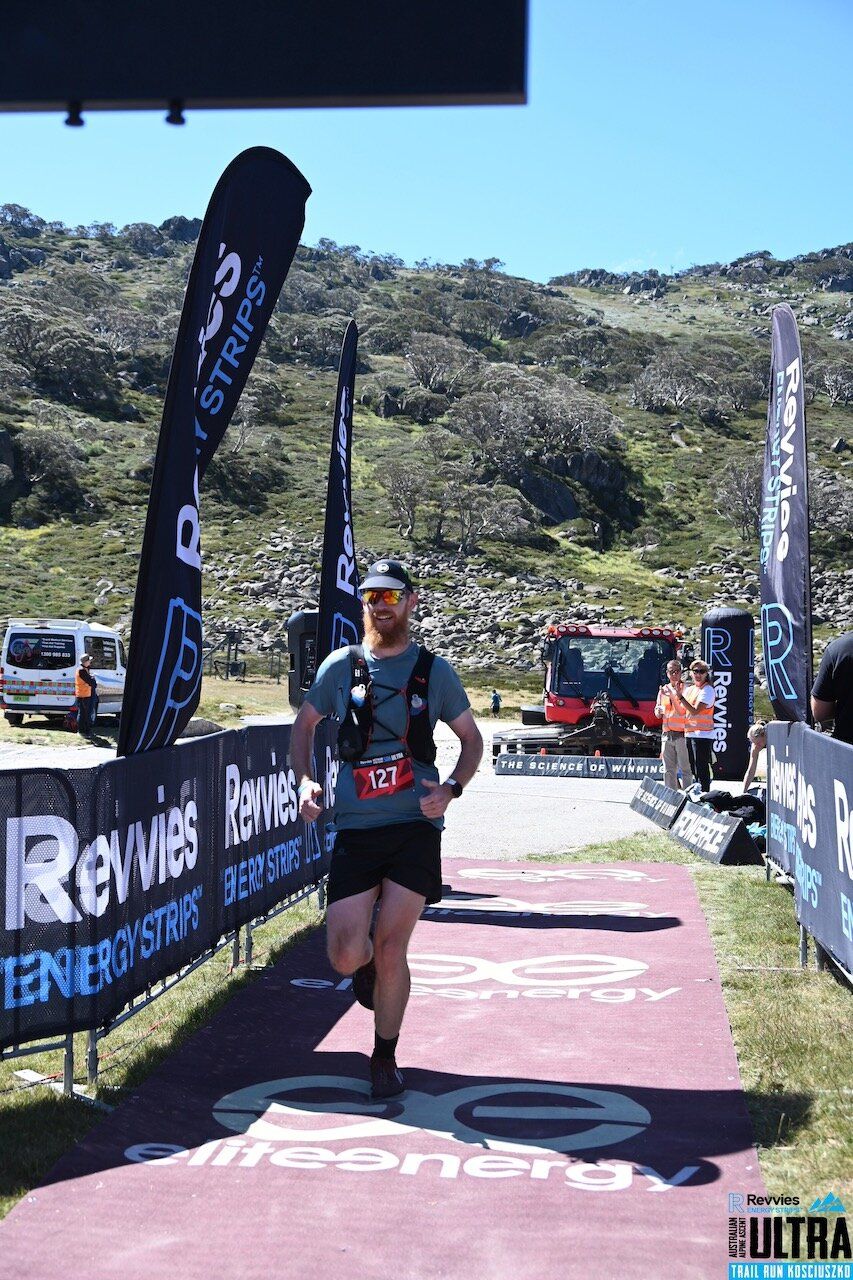 I feel I recovered pretty well after this race so I knew that I was almost ready to take on the Alpine Challenge 100km. I really enjoy running in the mountains, so no doubt will be back to run the AAA again.
Aftermath - "Bob the Blister"
Now is a good time to stop reading if you have a sensitive stomach.
I mentioned earlier that I had reapplied sunscreen. Unfortunately, I had apparently missed a spot on the back of my arms between my elbow and shoulder (I would later figure out that I was wearing a new shirt with shorter sleeves than normal).
Apparently after 6 hours in the alpine sun, this meant I ended up with quite the sunburn, which developed into quite the blister. I've never before experienced this and plan to never again.
It started with a small blister that developed in the spot, which then ballooned out to something a bit bigger than a golf ball: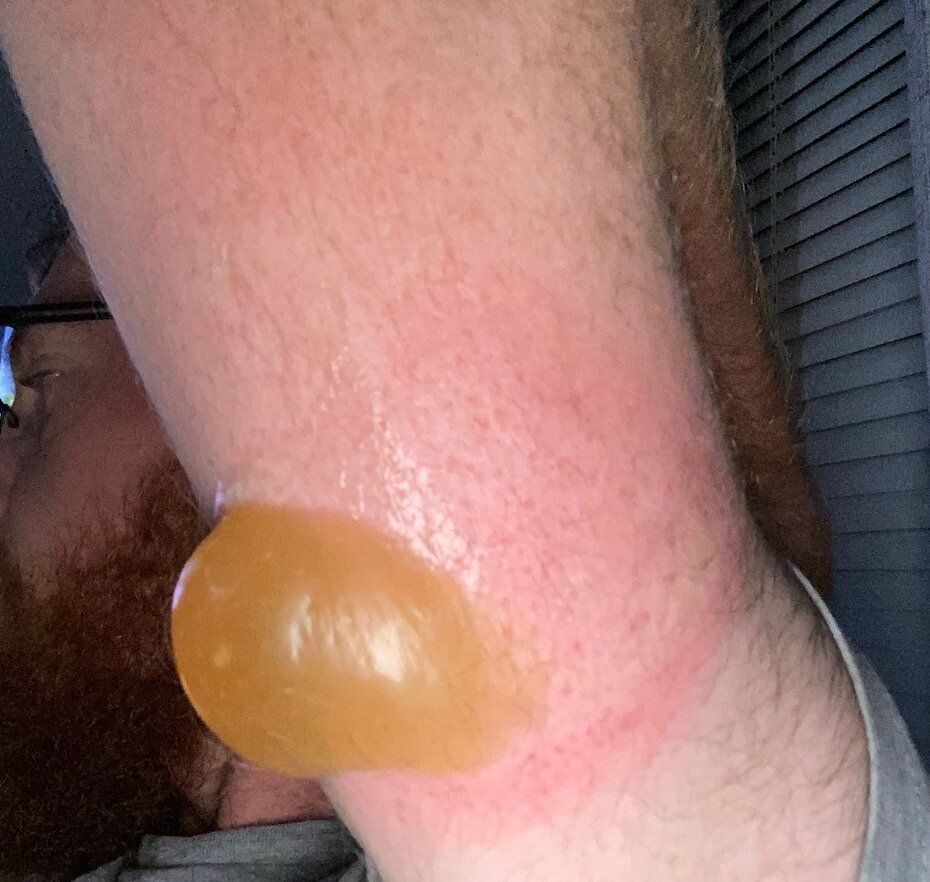 I went to see a doctor about this - because skin cancer is certainly no joke, but there wasn't much to do about it other than let it run its course and just be aware of symptoms.
This is certainly a lesson in sunscreen application that I will not forget!